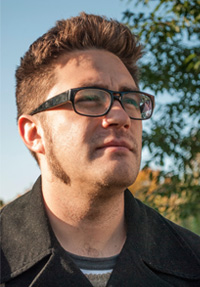 Empty Frame presents "Visceral" an sales exhibition by Sergio Haisch.
Sergio Haisch was born in La Paz, Bolivia 31 years ago; where, while studying media and communication, works as a reportage journalist. He moves to Norway in late 2003 and five years later he starts studying Graphic Design at Westerdals School of Communication. After finishing the regular two year study, he becomes part of the student-driven design agency Studio 3 . Thereafter starts freelancing and come to work with several different clients and projects, both as a graphic designer as an illustrator. As part of his work he's designed children's backpacks, illustrated longboards, drawn comic strips and story boards, design posters, made visual profiles, and done packaging design.
Early in 2012 he works on more regular bases within advertising and graphic design with Pocket & Comms and then Holidesign. He currently lives in Oslo.
Tell us about yourself / What makes you tick?
Like most children I drew a lot when I was a kid, I'm just one of those that didn't stop. As I grew up I started exploring new techniques and materials, and so became a self-taught artist and illustrator. I am a professional graphic designer, drummer, horror film aficionado, avid reader, husband and father of a clever little girl.
What makes motivates/inspires/activates me is art and illustration itself, seeing other people's work is a big motivation to produce my own.
Often is just the inner need to get things on paper, not necessarily a need to express myself through visuals, but the need of working on something visual. For me the process of working with something is often more rewarding than the final product itself.
Watching people and seeing their reactions to daily situations is also a big source for ideas. Music, films and books follow close behind.
You got a range of styles, but what do you prefer to work with? type of medium and tools?
Depends on the job really, but I prefer analog work. The physical contact with the different materials make it a lot more personal, a lot more intimate.
I usually like working with a range of different materials. My favorite is oil and/or acrylic on canvas or board, although lately If gained a new passion for ink on paper. My tools are pencils, brushes and spatulas. When I work digitally my tools of choice are Adobe Illustrator, photoshop and a Large Wacom Intuos 4
Has your work as a graphic designer effected your styles as a fine art artist?
Definitely, it has broaden my style of illustration, tool usage and better my perception of composition. It has also provided me a lot more experience to work digitally
Whats your goal with your fine art work?
To make it a significant part of my professional work. Later on perhaps turn it into my professional work.
When do you find yourself being most creative?
When I'm either very focussed or not at all: Through a process of connecting and reflecting ideas, or just by "spontaneous combustion"
Do you ever have creative slumps? What do you do then?
If its something framed by a deadline I start with a blank page and just start doodling to get myself back on track. I also take one idea and try think of combinations that will lead to more and bigger ideas. Sometimes it helps to just take the time to look around doing something completely different, going out, watching a film, etc.
What can we expect to see from you in the future?
Definitely more work; work in bigger scale and smaller, work with different materials. Hopefully more of a blend between art and graphic design.