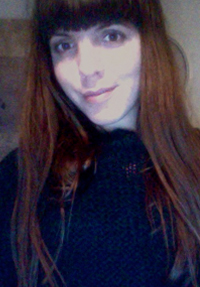 Empty Frame presents "Stars" by
Anette Moi, a 28 year old illustrator, graphic designer and artist based in Stavanger, Norway. Moi finished her bachelor degree in graphic design last year at London Metropolotan Universty in England. Last year she had her first soloshow, "Funfair", at Reedprojects Gallery in Stavanger, Norway.
With the exhibition "Stars" Moi shows different portraits of musicians she listens to when she draws. Music is inspiring and important for Moi´s drawings.
The portraits are Moi´s tribute to the real legends. Legends like Jimi Hendrix and Tupac are some of the stars that are portraited in the exhibition.
"Everyone should study a year or more abroad, its the best experience you can have."
Can you tell us a bit about your taste in music?
Reggae, dub, hip hop, jazz, funk, dub step & french folk music ++. I listen to artists like De La Soul, Nina Simone, Joker, King Tubby, Mad Professor, Burial, Jah Shaka, Michael Jackson, Bonobo, A Tribe Called Quest, Guru, Miles Davis, Beatles,
Big K.R.I.T, Herbie Hancock, Kendrick Lamar, Lee Scratch Perry, Earth Wind & Fire, Fat Freddys Drop, Balkan Beat Box and Yann Tiersen.
You have studied abroad, what was the best experience of studying in another country?
Meet new people. Explore new cultures. Do stuff you haven't done before. Learning to know yourself in a new way. Everyone should study a year or more abroad, its the best experience you can have.
Since you came back to Norway I've been following your work! And I like your playful style and your use of colors. Where do you get your inspiration?
Thank you! I find my inspiration everywhere! I follow a lot of artists on Instagram and get very inspired by them. I look at blogs like fucknfilthy, fuck you very much, the greatest hits and booooooom. I also find inspiration from Juxtapoz magazine, Vice Magazine, Its Nice That,
Fffffound.com and Tumblr.
So when do you find yourself being most creative?
I don't know, I think Im creative all the time? I think about ideas and stuff all the time, I don't have any time where I´m more creative than other, I´m always creative, either its 8 in the morning or 11 in the night. People can see a building or a car, I see so much more.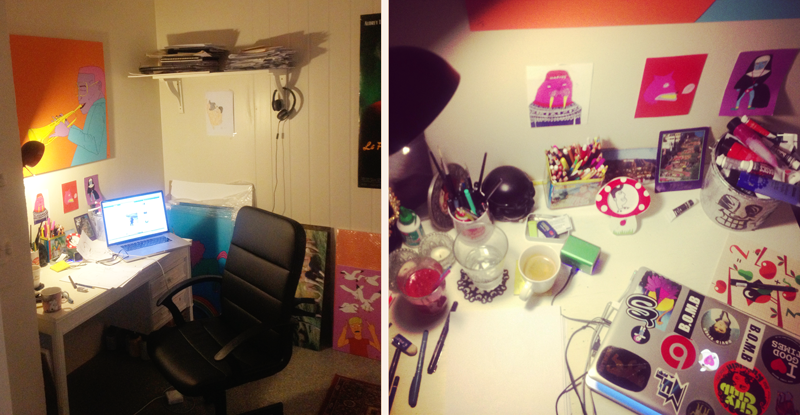 -From Anette Moi´s work space
What is the best/ most fun part of being an illustrator?
I absolutely love all of it. I love the freedom of being an illustrator. You know, just sitting down , listen to some good music, drink coffee and draw! It is a dream come true. Sometimes you just stop while you draw and smile, and pinch your arm, because it is really a dream job.
Do you have any artists/designers/illustrators you admire, that inspires you?
I admire Pushwagner for his colours and bold style. I admire Huskmitnavn for his ideas and funny characters. I admire Matt Furie for his crazy and creative drawings. I admire Andy Rementer for his colours and cool style. I admire David Shrigley for everything he does. I admire Stefan Sagmeister for his design and typography. I admire Steven Powers for his creativity and nice typography. I admire Bendik Kaltenborn for his drawings and the way he use colours. I admire Mike Perry for his creativity and his cool style.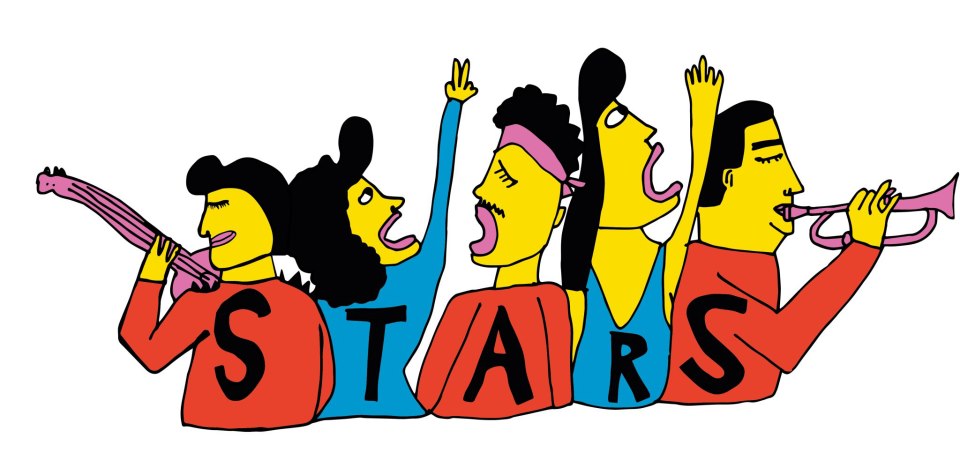 What can we expect from you in the future?
More drawings. More colours. More fun.