[vc_row][vc_column][vc_column_text]Empty Frame and Fritiden Min presents VERSUS, an exhibition by Rashid Akrim and Ståle Gerhardsen. Both starts on a piece each, which is then sent back and forth and back and forth again. Like a creative tennis match with no rules. A challenge and an opportunity to keep up the creativity. The end result, as well as the entire process is being exhibited in Oslo and Trondheim. All steps in the process is exhibited. So if you like the third poster better than the end result, you can buy it. Hooray!
And hey! We won the price for best local event in Trondheim! Thanks to Natt&Dag for the price!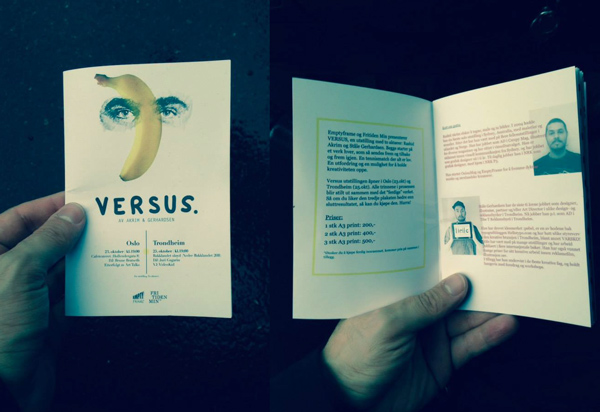 Short bio of the artists: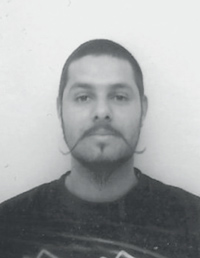 Rashid Akrim loves to draw, paint and take pictures. In 2004 he had his first solo exhibition in Sydney, Australia, with paintings and stencils. Since then he has been involved in several exhibitions in Norway and abroad. He has worked as AD in Catspy Mag, illustrated for various magazines and been a part of "byrom i portrom" and much more. Rashid has a degree in visual communication from Sydney and has worked as a graphic designer for ten years now. He is currently working for NRK as a graphic designer .
He started OnionMag and Empty Frame to promote talented Norwegian and foreign artists.
+ HUSKMELK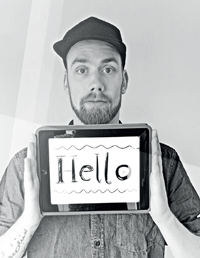 Ståle Gerhardsen has been working as a designer, illustrator, partner and/or Art Director in various design and advertising agencies in Trondheim for the past ten years. He now works p.t. as AD in Tibe T Advertising agency in Trondheim.
He started the clothing brand :pøbel, he is one of the heads behind the typography blog Hellotypo.com and been involved in the creative industry in Trondheim.
Ståle has participated in many exhibitions and has work published in several international books. He has also won many awards for his creative work in advertising, illustration, etc.
He has also taught in most creative classes, and held dozens of lectures and workshops.
+ emptyframe.org
+ Fritiden Min
[/vc_column_text][/vc_column][/vc_row][vc_row row_id="id="full-size"" el_id="full-size" el_class="full-size"][vc_column][vc_masonry_media_grid grid_id="vc_gid:1449010533396-ee00829b-c214-0″ include="848,847,846,845,844,843,842,841,840,839,838,837,836,835,834,833,832,831,830,829,828,827,826,825″][/vc_column][/vc_row][vc_row][vc_column][/vc_column][/vc_row]